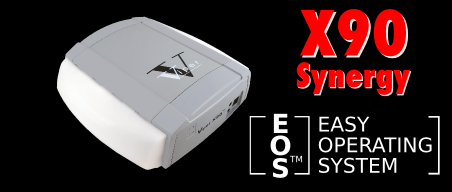 The Strongest, Most Quiet Residential Garage Door Operator System
Designed for carriage house, wind-loaded and heavy wood doors. The Viper X90 is a DC (Direct Current) operator with 1000 Newtons of power, making it the strongest residential operator. With the Viper's DC technology, you also get one of the quietest operators. Strength, Quiet, Performance...the best options available!
Accessories

Transmitters
Two styles of digital remote control transmitters in three different configurations: 2-channel MINI, 4-channel MINI (optional), and 3-channel MICRO (optional) remotes for controlling other devices. Unique, multi-bit technology, LED control button verification.
---

Modular Multi-Function Wall Station
Provides door operation and convenience from inside the garage. Compact, and stylishly designed to fit in a standard single gang electrical box.
Features
Illuminated push-button
Security vacation/lock switch
Light control
Individual control stations can be combined into on solid panel
---

Wireless Keyless Entry System (WKES)
Convenient and easy-to-use, our wireless keyless entry systems use a 4-digit PIN and controls up to 3 garage doors.
Features
Code security
Weather resistant
Provides temporary access to authorized visitors or service personnel
Specifications & Features
Travel Rate-Main:
5.5 in/sec
Push & Pull Force:
1000 Newton (1 HPS)
Logic Type:
Microprocessor with Built-In Surge Suppressor
Limit Settings:
Electronic
Display:
8-LED carousel
Dimensions

(L x W x H)

:
14½" x 14⅝" x 6&frac34"
Lighting:
Long-lasting LED lighting - Why LED?
Downloads
Viper X90 Manual: Download Here
Safety & Convenience
Meets and exceeds all UL325 requirements
Easy Operating System (EOS)
Infrared photo eye protection system
Safety reversal system
Manual emergency release in case of power failure
On-Command Door Activation (OCDA), programmable "open" intermediate position to vent the garage
Energy conservation feature
Self-diagnostic system